YD-3000A Hardness Tester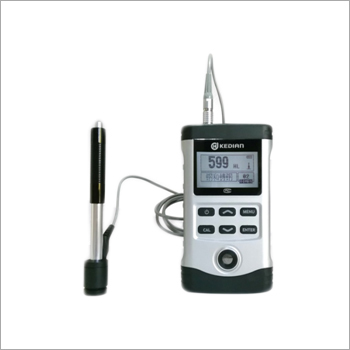 YD-3000A Hardness Tester
Product Description
YD-3000A Leeb hardness tester features:
1. According tothe principle of Lee's hardness measurement, a variety of metal materials canbe high-precision detection.
2. Support"steel" material, when using D / DC-type impact device test"forged steel" sample, you can directly read the HB value, withoutlook-up table.
3. Easily switch to all hardness standard (HL,HB, HRB, HRC, HRA, HV, HS)
4. Using large screen LCD display.
5. English display, function table operation,easy to operate.
6. Automatic backlit display, easy to use in thedark gray environment.
7. RS232 communication interface, you can easilyand quickly with the PC for data exchange and parameter settings.
8 A host can be equipped with 7 different impactdevices to use, automatically identify the impact device type. No recalibrationis required for replacement.
9. Can store up to 600 groups (impact times 32 ~1) hardness measurement data. Each set of data includes a single measurement,average, measurement date, impact direction, frequency, material.
10. Pre-set the hardness value of the upper and lower limits, out of range automatic alarm.
11. Power supplyusing 2 AA (5) ordinary alkaline batteries, can work continuously for less than150 hours, with automatic sleep, automatic shutdown and other power-savingfeatures.
12. Low-voltage capacity indication , promptingthe user to replace the battery in time.
13 With the indication software calibrationfunction.
hardness tester technical parameters:
1. Measuring range: HLD (170 ~ 960) HLD
2. Measuring direction: 360 vertical down,oblique, level, oblique, vertical up
(HR), Rockwell's(HRC), Rockwell's (HRA), Vickers (HV), Shore (HS)
3. Measuring materials: steel and cast steel,alloy tool steel, stainless steel, gray cast iron, ductile iron, cast aluminumalloy, copper and zinc alloy (brass), copper-tin alloy (bronze), pure copper,
4. Data storage: the largest 600 groups
5. Working voltage: 2 1.5V ordinary alkalinebatteries
6. Continuous working time: about 100 hours (donot open the backlight)
7. Communication interface: RS232
8. Indication error: The error is less than orequal to 6HLD (HLD = 800)
9 . The repeatability error isless than 6HLD (HLD = 800)