KODIN RAY3000A Ray Detector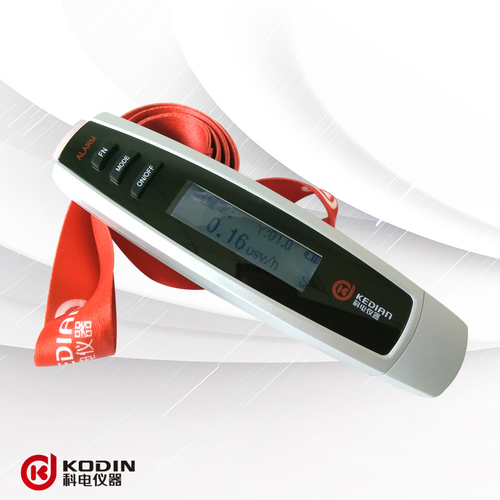 KODIN RAY3000A Ray Detector
Product Description
RAY-3000A ray detector is a kind of small intelligent radiation monitoring instrument.It been used for -ray and -ray detection.RAY-3000A is lower power, high sensitivity, stable performance, easy operation and small size. It can be put in the pocket. RAY-3000A use new single chip microcomputer technology to against interference, it can work in harsh environment.
RAY-3000A ray detector, can precisely detect the radiation dose rate and cumulative dose. LCD will display the reading to make sure operator stay in a safe environment which radiation dose rate remains at a reasonable level. When radiation dose rate over the alarm threshold,detector will display a prompt symbol, and alarm operator with sound and noise.
RAY-3000A is been used on Non destructive inspection, nuclear power plant, nuclear-powered submarine, isotope application, hospital cobalt therapy and so on.
Technique parameter :
1. Compensated GM counter tube
2. Available detect ray: ,
3. High sensitive
4. Digital display, easy to read.
5. Measuring range:
Radiation dose rate:0.01usv/h-99.99msv/h
Cumulative dose :0.01usv-999.99msv
6. Deviation:less than10%(137Cs)
7.Alarm
alarm threshold option:0.5,1.0,2.5,10,30,50Sv/h
Alarm type:Normal(N),Continuous(C), Silence(S)
When radiation dose rate over 1msv/h,detector will switch to Continuous(C) alarm.
8. Data retention
Cumulative dose data can be saved indetector if power is gone
9. Working environment:temperature :-10-- +50C. Humidity:Less than 90%
10. Size:145x37x22mm
11. Weight :120g( with battery )
12. Power:CR2450, 3V button cell
Contact Us
No.10, Lane 35, Zhuguang Road, Hsinchu, Hsinchu Shih, 8863, Taiwan
Phone :+886975014752