HM 600/600A Density Meter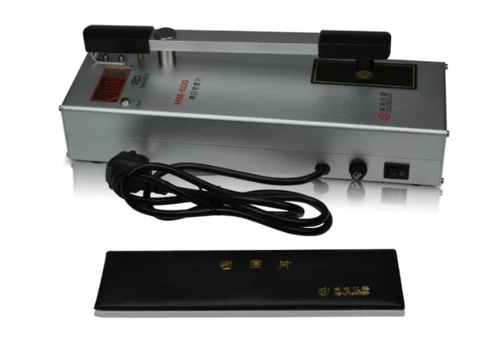 HM 600/600A Density Meter
Product Description
HM-600/600A is small in size, light in weight,easy to carry, easy to operate, high accuracy, and good stability.
HM-600/600A uses AC modulated light source,synchronous reception and detection technology, computer control and data processing, anti-light and electrical interference ability and temperature stability.
HM-600/600A has been strictly debugged and inspected before leaving the factory. After the user turns on, he only needs to press the zero calibration button to perform formal testing. Random standard density film for users to compare and verify.
HM 600 Densitometer parameter
Measuring range : 0-4.5D
Measurement area : 2 mm
Repeat error : +- 0.03D
Measurement error :
( 0.00D-3.00D) +- 0.03D / ( 3.00D-4.00D) +- 0.04D/( 4.00D-4.50D ) +- 0.05D
Display : Three-digit LED digital display
Power : AC220V/50HZ
Power consumption : lessthan or equal to 7W
Operating environment : 0-40 Celsius Relative humidity is less than 85%
Size/ Weight : 330x110x116mm / 1.7Kg
HM 600A Densitometer parameter
Measuring range : 0-5D
Measurement area : 2 mm
Repeat error : +- 0.03D
Measurement error :
( 0.00D-3.00D) +- 0.03D / ( 3.00D-4.00D) +- 0.04D/( 4.00D-
50D ) +- 0.05D
Display : Three-digit LED digital display
Power : AC220V/50HZ
Power consumption : lessthan or equal to 7W
Operating environment : 0-40 Celsius Relative humidity is less than 85%
Size/ Weight : 330x110x116mm / 1.7Kg
Contact Us
No.10, Lane 35, Zhuguang Road, Hsinchu, Hsinchu Shih, 8863, Taiwan
Phone :+886975014752