KV-3000 Vibration Gauge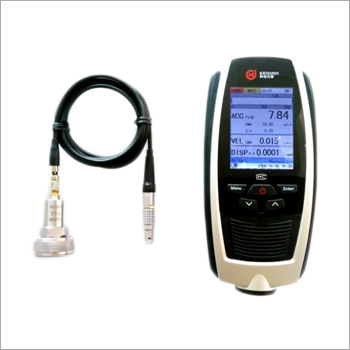 KV-3000 Vibration Gauge
Product Description
TheKV-3000 is a portable vibration Gauge for field mechanical vibration measurement and analysis applications. It uses the fast Fourier transform(FFT), the time domain signal into the frequency domain signal for analysis,can quickly determine the cause and location of the fault. 2.4-inch high-definition TFT color screen to make the display more clear; Bluetooth 2.0 wireless communication to make data transmission more flexible; a variety of measurement modes and other features, the instrument is more suitable for industrial site work needs
principle
The instrument uses ICP acceleration sensor, the vibration signal into electrical signals. Through the analysis of the
input signal, the acceleration peak, the true rms and the peak coefficient, the velocity effective value and the displacement
peak-to-peak value of the vibration measurement are obtained,And can print out the measured values and spectrum list
Application scope
The instrument is suitable for conventional vibration measurement, especially in the rotation or reciprocating
machinery vibration measurement, it can not only measure the vibration acceleration, speed and displacement, but
also can be simple fault diagnosis and data output print.
The instrument is widely used with machinery manufacturing, electricity, metallurgy, vehicles and other collar
main function
-- FFT spectrum lines: 200,400,800,1600
-- Anti-mixed filter: 5-order low-pass elliptic filter.
-- The optional frequency range: 10-200HZ, 10-500HZ, 10-1KHZ, 10-2KHZ, 10-5KHZ, 10-10KHZ.
-- AD sampling: 4-channel, 12-bit, up to 25.6K sampling frequency.
--Sampling points: 512,1024,2048,4096.
-- Window function: rectangular window, Hanning window, Haining window, flat top window.
-- Display: 2.4-inch TFT high-definition color screen, , the background light brightness continuously adjustable.
--Data interface: Bluetooth 2.0 wireless communication information interface.
-- The measurement mode: dedicated mode and spectrum mode.
-- Calendar: you can display the time information, but also to make the information to bring the date, with traceability.
-- Storage: automatic storage, can store 99 points, each point can store 50 data and a spectrum list.
-- Shutdown mode: manual, automatic optional.
-- Instrument Information: You can view the software version of the instrument and vendor information.
-- To restore the factory settings: due to misuse or other external causes of the instrument system disorder, allowing the
user to return to the factory state.
Technical Parameters :
A. Measuring range
Acceleration : (0.1 - 392) m / s2 (peak)
Speed : (0.01 to 80) cm / s (effective value)
Displacement : (0.001 - 10) mm (peak to peak)
B. Frequency range
Acceleration : 10Hz - 10kHz
Speed : 10Hz - 1kHz
Displacement : 10Hz - 500Hz
C. Accuracy
Reference Sensitivity : 2%
Amplitude linear relative error : 5%
Frequency response Relative error : 5%
D. Temperature range : -10 Celsius 40 Celsius
E. Humidity range : 80% RH
F. Display : 2.4-inch TFT dot matrix screen (with LED backlight)
G. Battery: two AA-type nickel-metal hydride batteries, charging 12 hours, continuous measurement for 25 hours
H. Dimension: 150mm (L) * 68mm (W) * 33mm (H)
I. Net weight: 220g (including battery)
Contact Us
No.10, Lane 35, Zhuguang Road, Hsinchu, Hsinchu Shih, 8863, Taiwan
Phone :+886975014752